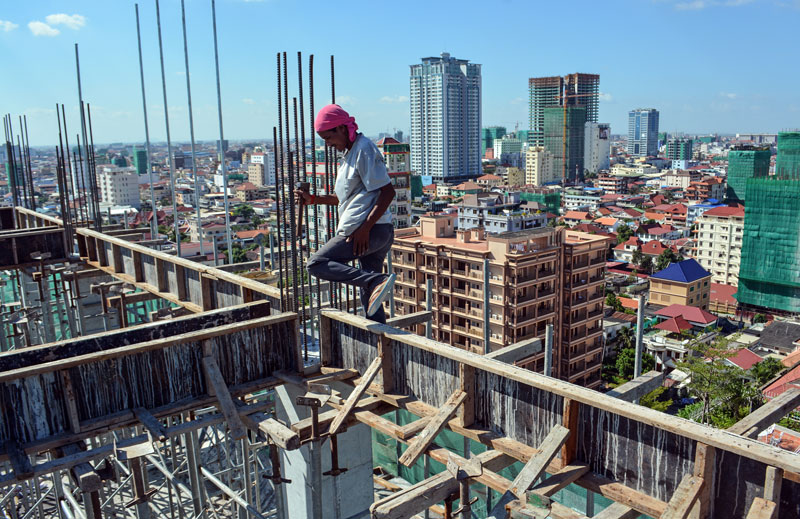 Thursday, 04 February 2016.
 A draft construction law has been completed, will soon be submitted to the Council of Ministers and may be enacted by the middle of the year, Sok Siphana, a senior advisor to the government, told Khmer Times yesterday.
"I hope that by mid-year at the latest we will have a construction law," Mr. Siphana said.
He said it will regulate construction, set standards for construction, and ensure that those involved in construction are qualified.
More workshops and seminars are taking place between Construction ministry officials and executives from the private sector to discuss the draft law, Mr. Siphana said.
"The number one focus of the law is on regulating the industry, so that the practitioners – architects, engineers, builders and constructors – have to be qualified," he said.
Other regulations cover security and safety, he said, adding that the purpose is to have a comprehensive law that will ensure a healthy construction industry.
"There are about 300 articles of the draft and we have taken models from many countries and adapted them to meet the requirements in our country," Mr. Siphana said. "Many laws from foreign countries do not fit the situation here, so I and the ministry have drafted a law [to fit Cambodia's requirements]," he added.
Po Eavkong, managing director of Asia Real Estate Cambodia Co. Ltd., welcome the news of the draft law, saying that it would provide a boost to the construction sector by generating more confidence in it.
"The law will provide more advantages, like construction standards, quality, and technical assistance for the sector because it will create a system to manage the sector," Mr. Eavkong said. "When the law is fully implemented, the construction ministry will use the law to monitor the sector and also strengthen quality and standards."
A report last year by the UK-based Royal Institution of Chartered Surveyors (RICs) outlined a number of key recommendations on what the Cambodian government could do to improve building standards. RICS has also provided proposals to assist the government in carrying out these recommendations, some of which are already underway, according to officials.
Investment in the construction sector reached an all-time high last year of almost $3.5 billion, up about 40 percent from the $2.5 billion invested in the sector in 2014, according to data from the Ministry of Land Management, Urban Planning, and Construction.
There were 2,500 construction projects, covering 7.7 million square meters of land last year, according to the ministry. About 700 buildings, ranging from five to 55 floors, were built last year across the country, with most going up in the capital, Kandal, Siem Reap, Sihanoukville, and Battambang provinces, figures from the ministry show.
Source: KhmerTimes/Sum Manet
Full article can be seen here.