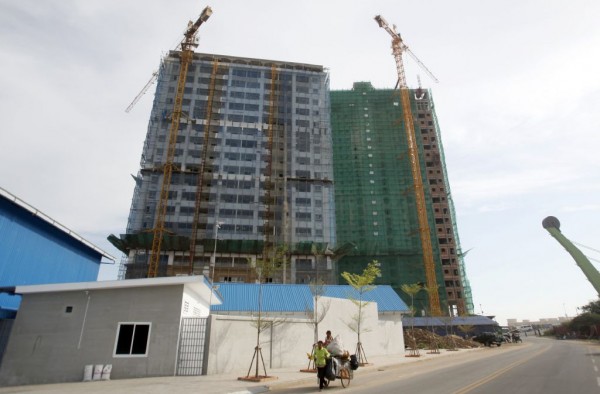 Cambodian experts still find myriads of reasons for and against the impacts that China's slower-than-anticipated economic growth could have on the Cambodian real estate market while the overall results remain obscure.
Ann Sothida, deputy director of CBRE Cambodia, who has worked with many Chinese investors, told Post Property on Tuesday that backlashes to the local real estate industry would be minimal – under the condition things do not get worse in China.
"I have asked the Chinese investors about this matter and they told me that they would not postpone their construction projects [in Cambodia]. Yet, they would delay the projects if ongoing construction projects in China would demand extra efforts," she said.
However, she added that those looking to invest overseas from the Chinese mainland may become hesitant until the storm calms.
"When there is a problem in [China], [the investor] would consider putting off the investment in foreign countries," she said.
Echoing Sothida, Touch Samnang, project manager of OCIC, said that for the Chinese-dominated Diamond Island, "no projects are on hold" and it is "business as usual."
However, he did note that sales had recently dipped.
"I heard about the economic crisis in China, but I don't have any details of it," he said.
While some see ongoing construction projects unaffected, others believe that Chinese construction has already started to decline.
Surveying the landscape, Sung Bunna, director of Bonna Realty Group said that "some projects from large Chinese companies seem to be stagnant."
However, he was quick to point out that the overall "the real estate market in Phnom Penh is still progressing" and that investors should take advantage of the changing economic climate. He said that the cost of building materials are dropping and the shortage in the labour market for construction workers could be less acute if Chinese developers employed fewer workers.
Mey Kalyan, economist and advisor to the Supreme National Economic Council, pointed out that it was natural for growth of gigantic economies such as China to decelerate. He added that the overall volume of growth, and incoming FDI from China, "is still significant."
"The Chinese economy is still expanding, even though the growth rate is lower. It is not harmful as the impact on the Cambodian economy will be slight," Kalyan said, and continued to explain that from a political, diplomatic and bilateral economic point of view, China and Chinese investors continue to have a strong commitment to Cambodia.
Source: Siv Meng – Phnom Penh Post