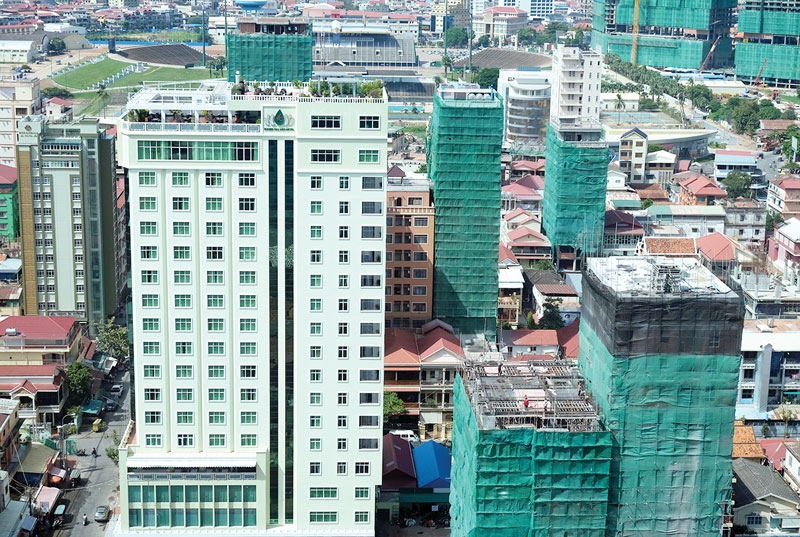 The White Book, which stated that construction and real estate "is Cambodia's most rapidly developing sector and is certainly Cambodia's most dynamic source of growth", with $3 billion of investment in 2015, made a number of suggestions aimed at making the industry more efficient.
The chamber said that as the Kingdom grows wealthier, there will be strong demand for new residential and commercial space, which will in turn contribute to the economic growth of Cambodia. However, the chamber cautioned the industry would need "a greater level of regulatory oversight and leadership from the public sector."
EuroCham's most important policy suggestion is that there should be more stringent financial controls applied to developers.
"In order to minimize financial risks with the real estate and construction sector, many countries have minimum capital requirements that must be met before a construction permit will be issued on a project," the report stated.
"The developer must be able to demonstrate that it holds capital equivalent to a certain percentage of the value of the project."
According to the chamber, stricter rules prevent developers from beginning projects that are financially dependent upon pre-sales money, which are at higher risk of running out of money before completion. "Developers undertaking projects without sufficient starting capital represent a major risk to the Cambodian real estate market and by extension, the entire national economy."
EuroCham goes on: "We recommend that the Royal Government further develop fiscal controls within the real estate and construction sector so as to set a minimum capital requirement for development projects and define stages at which funds can be released into projects."
The chamber also wants to curb speculation in property.
"We suggest consultation with the private sector to deliberate upon the most effective means of control – constraints on when a property can be resold or additional taxation on properties resold within a certain time period could help to discourage speculative buying."
EuroCham further called for the government to officially define a universal standard of measurement for property in Cambodia, noting: "A lack of standardized measurements can create confusion and, in the worst case, provide opportunities for misleading practices. It is ultimately consumers who lose out from this ambiguity, which can affect confidence in the market."
The chamber also called for the government to consult with the private sector to ensure the adoption of a practical set of building safety and quality standards in Cambodia.
It stated that due consideration needs to be given to how standards compare to those in other countries – suggesting creating a set of standards unfamiliar to investors would create additional adaption and certification costs and potentially discourage foreign investment.
And it notes that "a robust yet practical set of building standards would increase investor confidence without creating too many burdensome costs."
The EuroCham White Book also examines fire safety issues and coastal development projects, and suggests ways that the government can address these pressing matters.
To view the full report, go to: http://www.eurocham-cambodia.org/business_guide/market_info.
Source: Phnom Penh Post/Alasdair Richards
Full article can be seen here.