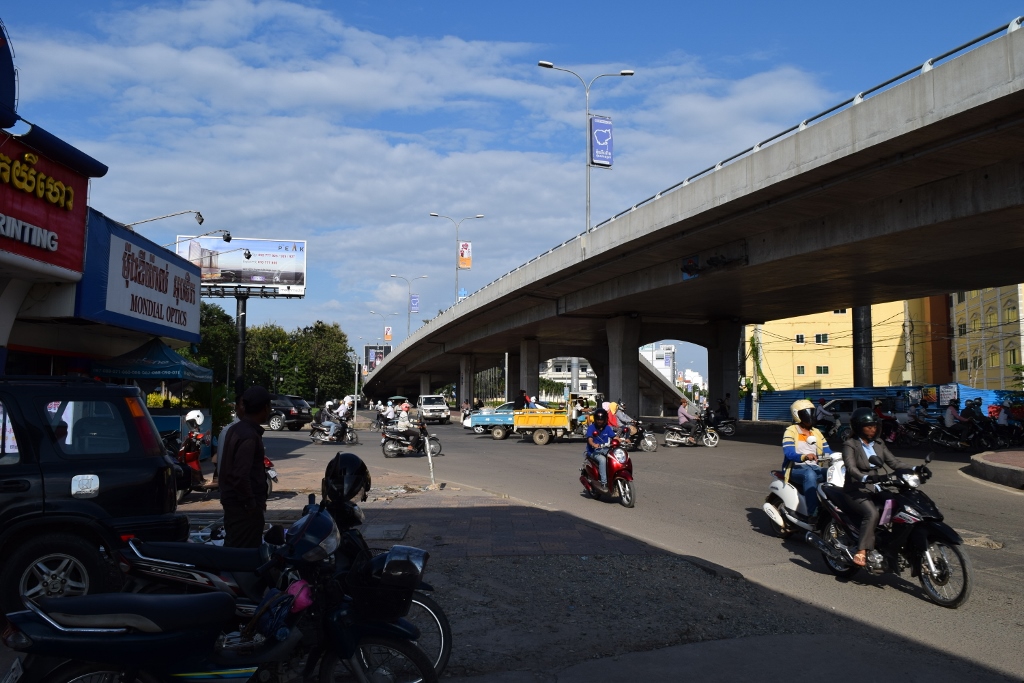 Prime Minister Hun Sen has given two more skybridges, two more underground roads and the airport express way a tentative green light during the inauguration of the newly named "January 5 Skybridge".
By voicing approval, the prime minster replied to a proposal from Phnom Penh City Hall in a bid to reduce the growing problem of traffic congestion in the city. However, comments by shareholders and experts raise questions concerning financing, completion dates and the feasibility to solve traffic congestion.
More than being approved, the three projects appear to have already been commissioned to different construction and engineering companies.
"The construction of flyovers and underground roads are done by highly-skilled Chinese and Cambodian engineers," said Touch Samnang, project manager for Overseas Cambodian Investment Cooperation (OCIC).
Samnang, whose company is also the developer of Olympia City, confirmed that OCIC was commissioned to construct the two overpasses and two underground roads while the airport express way will be built by an unnamed construction company from Shanghai, according to City Hall spokesperson Long Dimanche and Samnang.
The Prime Minister tentatively approved the following infrastructure projects for Phnom Penh:
• There will be an additional overpass and underground road near the existing Kbal Thnal Skybridge. The overpass is 810 metres long and the underground road is 606 metres. Current estimates for the development amount to $10 million.
• An underground road at the intersection between Russian Boulevard and Preah Monivong Boulevard is intended to ease traffic in the vicinity of Vattanac Capital Tower and Canadia Bank Tower. The road is planned to be 340 metres long and 15 metres wide.
• Also PM approved, plans for an overpass at the intersection between Dey Hoy Market, Russian Boulevard and Hanoi Street. The development will measure 605 metres in length and 17 metres in width.
• Other than giving first approval to the aforementioned projects in his speech, Hun Sen recommitted to the plan to build a 13-kilometre express way above the existing rail line from Monivong Boulevard towards Pochentong International Airport that will be built by the Chinese company.
While the scope and responsibility for the infrastructure projects appears to be sorted out, the financials are debated.
OCIC's Samnang said that the funds to develop these infrastructure projects "are drawn from the land rented for the Chroy Changvar Satellite City."
City Hall's Long Dimanche however, contested that the money for these projects would be funded from City Hall, not OCIC.
Moreover, Dimanche's and Samnang's contradict each other in terms of timelines, leaving actual project completion dates open.
According to OCIC, starting now, construction will take one and a half years to finish.
According to City Hall however, the construction of these sky bridges and underground roads will begin "soon" because the technical crews investigating the feasibility of these projects and are still waiting for Hun Sen's final permission to continue.
However, once official permission is granted, the field studies are concluded, construction could start immediately, Dimanche said.
"The objective of building these bridges is to ease the traffic congestion. When we have these flyovers, we can effectively solve the traffic problem," Dimanche said.
Nevertheless, some experts contest the usefulness of these infrastructure projects to alleviate traffic altogether.
Dr Van Vat, an expert in city planning, refuted the notion that overpasses would alleviate traffic congestion, and would instead only damage the look of the city.
"Planning after the problem exists is not as good as planning before," he said. He also questioned if these plans would allow for pedestrian foot traffic.
"The government should consider building overpasses for pedestrians to cross especially in areas such as markets, schools and hospitals," he said.
"Building short bridges like these will only solve problems in one area. To avoid this problem altogether, we need to have a detailed plan for each district as to which roads need to be expanded in a five or ten-year timeframe, and which roads will have overpasses. If we don't do that, the congestion issue will persist," he said.
Additionally, he said that the Ministry of Economy and Finance has to consider the level of vehicle imports to address projected traffic issues, while the Ministry of Public Works and Transport should consider designing and implementing appropriate traffic light systems.
Full article can be seen here