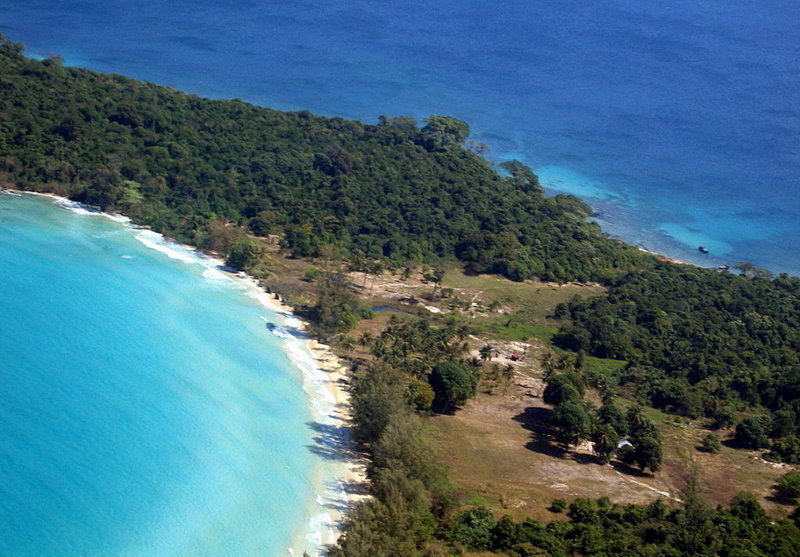 After it was announced that the island of Koh Tang could see one of Cambodia's first luxury high-end island developments undertaken with foreign investment through an MOU between Worldbridge Land and Chinese-mainland Nanshan Group, committing potentially nearly $1 billion to the project, Rithy Sear, Chairman of Worldbridge Land, affirmed the dedication to the development though logistical hurdles linger.
The development would be Worldbridge Land's first foray into the hospitality industry "on a massive scale," said Sear. Worldbridge Land is best known for their two large condominium projects in Phnom Penh: The Peak and The Bridge.
"I feel that if you look into the government economic growth plan, tourism is something that Worldbridge needs to expand into. I can't just develop in the high-rise business; I need to also look into resorts," he said.
While island ownership and development has long been an unclear business, with previously Russian-owned islands mired in controversy, it was predicted that after tycoon Sergei Polonsky was extradited back to Russia, it would free up the government to collaborate with the private sector to achieve positive results under the guidance of the Council for the Development of Cambodia (CDC).
According to Sear, he first negotiated the acquisition of the island more than two years ago after purchasing it from a Russian businessman, whom he declined to name. However, soon after he purchased the island, trouble began. The island has long held a small naval contingent that dates back the days of the Vietnam War.
"After I took [the island] for two months, then we already had a problem. The military over there complained that they wanted to take the [whole] island back," he said.
"I had to fight with [the military] every time until H.E. Sok Chenda Sophea supported my plan," he said referring to Secretary General of the CDC who presided over the signing of the MOU, and according to state-run news agency AKP, expressed that the agreement "underlined the royal government's efforts in developing the coastal areas and islands in order to attract more and more tourists."
While Sear explained that with CDC support, not only does the potential of island development become more viable, it is also done "legally and properly."
Sok Chenda Sophea could not be reached for comment on the proposed development.
Ho Vandy, former co-chairman of the Tourism Private and Public Sector Working Group and current advisor to the Chamber of Commerce, said that the MOU was a positive step in developing Cambodia's long-dormant coastal potential under proper oversight.
"We hope that some of these giant Chinese projects can not only bring in more Chinese tourists, but also make it a regional destination that can support cruise ships," he said.
Additionally, he explained that this development falls under a broader strategy to combine Thailand and Cambodia's tourism potential by connecting island developments.
"Linkage between these islands means more development of these islands," he said.
While he noted that approximately 20 islands have been sold to private companies, many lacked a clear development structure, thus leading to government oversight.
Nevertheless, the remaining military presence has been an impediment to progress that Sear hopes to finally resolve.
"I still need to go out there and talk to them. So I tell them that if we develop the land, I need to provide a job opportunity and a salary," Sear said and added that 45 to 50 hectares will still be allocated for the military.
According to the master plan concept shown to Post Property, the 510-hectare island that is 90 per cent covered in forest and has five coastal beaches, will feature a casino, numerous luxury hotels, retail centres, night clubs, a helipad, hillside villas, lakeside villas, conference halls and a wedding venue – just in the northern part of the island. The island centre will remain forested for trekking, while the western zone will primarily be used for a service jetty as the island's south will hold a retirement villa, a sanatorium and rehabilitation centre, and a marina.
While negotiations with the military are still underway, both companies are carrying out feasibility studies for the investment that should be finished by this October, according to Sear.
"[When the studies are concluded] I will go out there with my Chinese partners and talk to the military again," he said, stating that construction could begin in earnest by early 2017, although a completion date remains unclear.
As for logistics to ferry materials out to the island for construction, Sear said the companies are considering whether to use the private deep sea port owned by Union Development Group in Koh Kong, or the Sihanoukville Autonomous Port.
"But it depends on the capacity of these ports. But for sure we will not build our own [mainland] jetty. We won't do that," he said.
When asked about the role that Nanshan Group plays in the development, Sear referred to their expertise in building resorts, noting the developments in their home province of Shangdong. Nanshan Group also operates golf resorts throughout Australia.
According to Bloomberg's company profile, over the past thirty years Nanshan has grown to engage in aluminum manufacturing, textile and garment manufacturing, tourism, golf, education, real estate, wine, finance and aviation.
With such a track record, Sear sees the Chinese conglomerate as an established backer and a necessity for success of the development.
"This is one of the reasons it took so long to find a development partner. Nanshan Group is very good because they have a similar business style with [diverse] interests," he said, referring to the expansion of Worldbridge's portfolio.
Source – Phnom Penh Post.