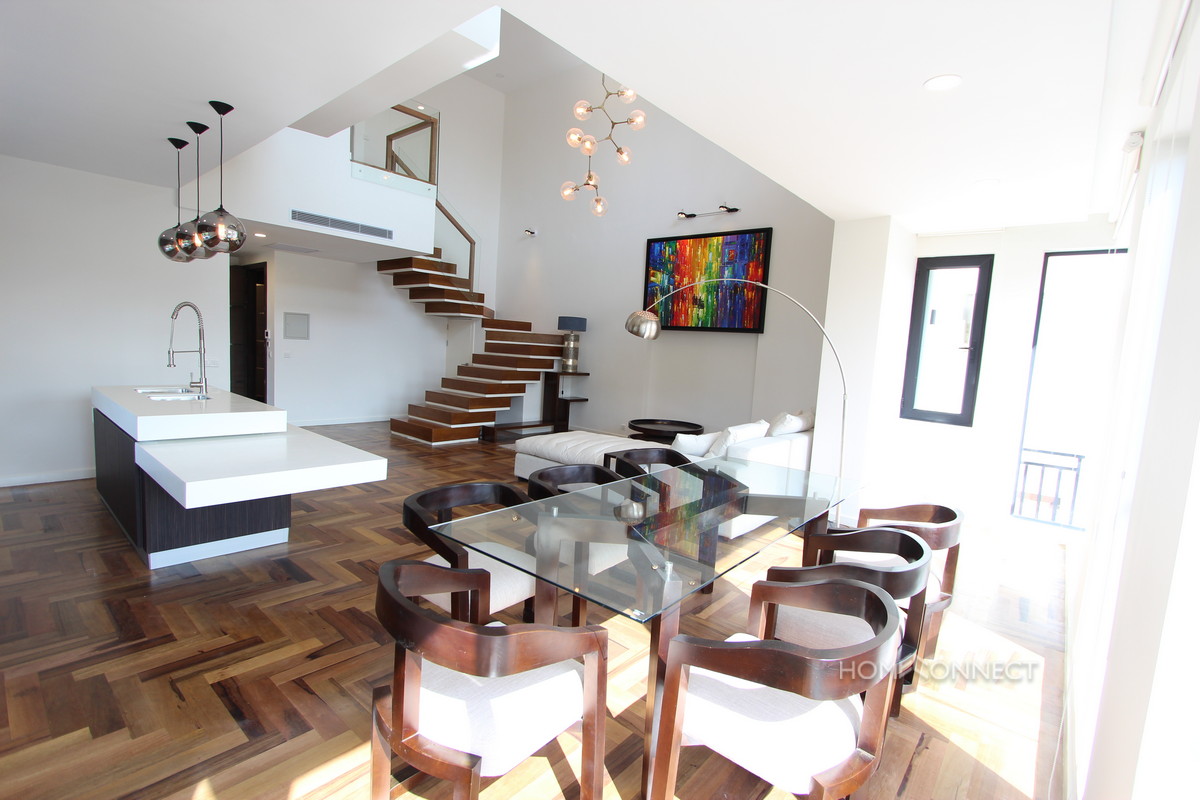 By Hanamariya Halim
While mass-market condo units are scrambling to sell in the aftermath of the capital's condo boom, the other end of the condo spectrum has been slowly cultivating niche residences appealing to people's desire for utmost privacy.
In what can be described best as intimate, the exclusive spaces at Habitat Condo cater to those looking for absolute privacy. In a market where every other condo development sells itself as tranquil and a place to be away from the city's hustle, Habitat has upped the game by offering just 13 units across 14 levels.
With a capital outlay of about $5 million, the development has been touted as one of the most expensive condos in Phnom Penh at present, but Habitat's developer Intan Kosem and financial advisor Matthew Tippetts say otherwise. "Are we the most expensive on a headline price? No. We're 10 to 40 percent cheaper than other luxury condos out there."
The boutique condo development is situated in Tonle Bassac, an area that in recent times has been coming on strong with new residences, bars, and restaurants.
Habitat's most expensive unit – the 3-bedroom duplex penthouse – sells for $2,950 per square metre, similar to some other luxury condos going for $4,000. Because there are only 13 units, each condo unit spans a massive floor area. Its two-bedroom apartments offer units of 89 to 102 square metres, with the two-bedroom duplex measuring 89 square metres on the first floor and up to 63 square metres on its mezzanine level. The penthouses occupy a spacious 193 square metres each.
Designed in a way that maximises the unit's huge floor area, and again emphasising the importance of privacy, all the bedrooms are spaced as far away from each other as possible.
"Real luxury is privacy. With only up to two units per floor, each homeowner has only one neighbour. Because it's so low-density, you can access all the amenities as if they were your own. You can have barbeques with your friends at the rooftop where the pool is, and chances are the entire place is yours," said Tippetts.
The development also deviates from typical condo showrooms: "What Habitat offers is to invite prospective buyers to come down and see for themselves the real deal – the details of the condo and what they will be getting," Kosem said.
She is not in a rush to sell the condos, either. Out of 13 units, three have so far been sold, including the most expensive unit – the $571,000 penthouse. Other units start from $232,000. "We didn't do any pre-sales, and we waited until we had finished construction before pushing sales. I'll give it six months to a year before we reach full occupancy," said Kosem.
Kosem does not believe in reaping profits from her clients long after the units have been sold. Neither does she think it is necessary to outsource a property management company that would charge exorbitant fees.
"As a developer, my interest is in protecting the interest of the investor. To me, it's all about making things transparent and allowing the homeowners more control over what they want to do with their homes," she said.
Habitat has its own property management team. A condo manager, a security guard, a housekeeper, and a maintenance manager more than suffice, Tippetts added.
Subtlety and elegance is key – evident in Habitat's contemporary design that makes use of built-in European appliances and tiles, and A-grade hardwood herringbone-style flooring. Kosem stressed that she did not want to go for the flash factor like most other condos in Phnom Penh do. "A lot of the local population is still obsessed with the 'bling-bling' factor, which is what sells, but we prefer to keep things simple and understatedly luxurious," she said.
Habitat worked on its interior design with Singaporean-based interior design firm Spacelogic – which counts Kosem's boutique condo as its first residential venture as its main focus is on outfitting corporate spaces. Nicholas Seah, Spacelogic's general manager, said, "We decided to give Habitat a go, because it is a small but unique development, and it demonstrates our ability to do residential projects as well."
"We are certainly delighted to be associated with Ms Intan and her award-winning Habitat."
Indeed, for a newcomer on the condo block, Habitat has many accolades under its belt. At the 2017 Cambodia Property Awards in March, it took home the prizes for Best Condo Development Cambodia, Best Condo Development Phnom Penh, and Best Residential Interior Design.
Although it reaches deep into the pockets at $200,000 to $500,000 a pop per unit, Habitat more than makes up for its price with its limited edition residences that resonate with those seeking ultimate seclusion while being in proximity with the swanky dining and entertainment establishments Tonle Bassac offers.
Source: Phnom Penh Post – Hanamariya Halim
The full article can be seen here.